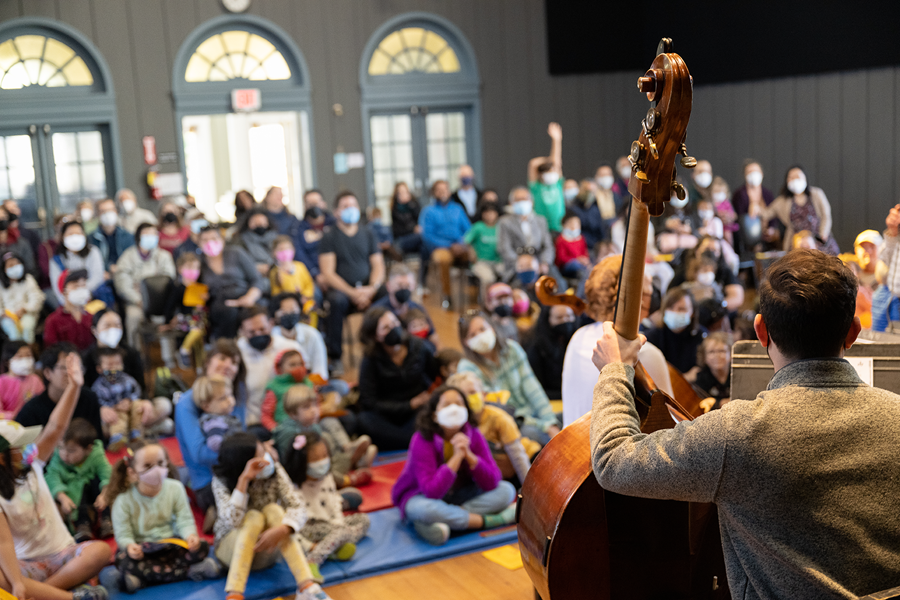 Community Music Day
Join us for musical fun and discovery for the whole family throughout the day! Community Music Day, Crowden's largest outreach event of the year, is FREE for the entire community.
For our 40th Anniversary, we've planned an incredible day of musical activities and performances for all ages, spotlighting our many different music programs, our community partners, face painting, instrument-making, and, of course, our ever-popular Instrument Petting Zoo.
Featuring: San Francisco Chamber Orchestra (with its new conductor, Crowden School alum and frequent faculty member Jory Fankuchen), Philharmonia Baroque Orchestra, Harmony Project, Berkeley Symphony Orchestra, and inspiring student performers from our Suzuki Strings and Crowden programs.
PERFORMANCE SCHEDULE:
10am: Crowden Suzuki Strings
10:30am, 11:15am, and 12pm: Very First Concerts with the San Francisco Chamber Orchestra
12:45pm: Harmony Project
1pm: Crowden ensembles
1:30pm: Philharmonia Baroque Orchestra
Very First Concerts with SFCO: "Mixed Nuts: Winds, Brass and Strings"
San Francisco Chamber Orchestra encourages audiences to get up and dance in Very First Concerts. Designed with the youngest listeners in mind, these concerts have it all! Learn all about the violin, bass, flute, clarinet, trumpet, trombone—you'll love hearing how different (and how much the same) these instruments are.
Philharmonia Baroque Orchestra
Join members of PBO from 11am to 1:15pm in composing a brand new piece and hearing it played—no experience required! Be sure to also catch PBO's special section at the Instrument Petting Zoo to try out historical instruments and hear what makes them unique. The musicians will demonstrate the gorgeous sounds of baroque strings in a performance in the Auditorium at 1:30 pm.
Stay tuned for more details about this year's musical carnival!
Learn more about Community Music Day here