John Adams Young Composers Program Spring Concert Livestream
Students in our John Adams Young Composers Program showcase their works with world premieres of their compositions performed by professional musicians. Join our virtual audience and hear the pieces our students have composed over the spring session, livestreaming online.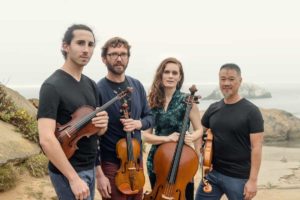 This semester our young composers explored the expansive and exciting world of the string quartet, writing vibrant and varied works inspired by dances. We're thrilled to welcome the critically acclaimed Del Sol String Quartet—recognized as a "vigorous champion of living composers" and actively committed to music education— to our digital stage to premiere our student works this spring.
Featuring premieres composed by:
Sy Anderson
Skyler Baysa
Penina Biddle-Gottesman
Christine Blair
Jack Damon
Jesse Distiller
Connor Johnson
Steven Lee
Kai Matera
Lukas Moy
Kuzey Sozat
Nicole Targosz
erra Angela Hurtado
Cisco Hurtado-Wallace
Del Sol String Quartet:
Benjamin Kreith, violin
Samuel Weiser, violin
Charlton Lee, viola
Kathryn Bates, cello
Learn more about Del Sol String Quartet at www.delsolquartet.com
Watch the concert online broadcast on our YouTube channel, link will be available soon!
This concert is free to the general public, no tickets or RSVP required.
The John Adams Young Composers Program was founded in honor of Pulitzer Prize-winning composer John Adams, who has a long association with Crowden, on the occasion of his 60th birthday. The heart of our mission is to guide and mentor our students through the formative stages of their creative growth as composers.