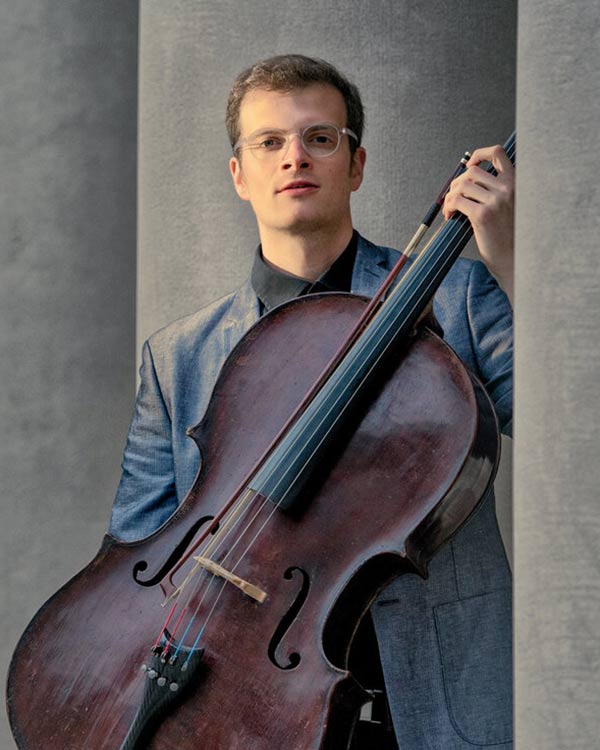 Youth Chamber Music, Ensembles
Cellist James Jaffe connects with audiences, colleagues, and composers through music. He has performed solos with the National Repertory Orchestra, CityMusic Cleveland, and the Stockton Symphony. Recent chamber music appearances have taken him through Switzerland and France on concert tours, to the Robert Mann String Quartet Seminar in Manhattan, to Beijing's Central Conservatory of Music, to the Trinity Alps Chamber Music Festival, and frequently to Groupmuses in San Francisco, including a sold-out performance of Schubert's Death and the Maiden at San Francisco's first Massivemuse. He serves as Director of Festival Rolland, a summer chamber music festival in Burgundy, France.
An enthusiastic interpreter of new music, James has collaborated with Pulitzer Prize to winning composer Steven Stucky, given a series of performances of Khse Buon by Cambodian-American composer Chinary Ung, and presented the premiere of Peregrinations for Solo Cello by San Francisco composer Kyle Randall. He is a member and frequent section leader of One Found Sound, San Francisco's unconducted chamber orchestra. His performances have been broadcast by Cleveland's WCLV 104.9, Virginia's WVTF 89.1, San Francisco's KDFC 90.3, and streamed live from the Norfolk Chamber Music Festival.
James studied cello performance with Milly Rosner, Richard Aaron, Stephen Geber, and Jennifer Culp, earning performance degrees from the University of Michigan, the Cleveland Institute of Music, and the San Francisco Conservatory of Music. He has spent summers at the Aspen Music Festival, Music@Menlo, and the Banff Centre in Canada. His chamber music mentors include members of the Juilliard, Cleveland, Takács, Tokyo, Vermeer, Emerson, Brentano, Kronos, Cavani, and Concord Quartets.
Information not available