Gala 2020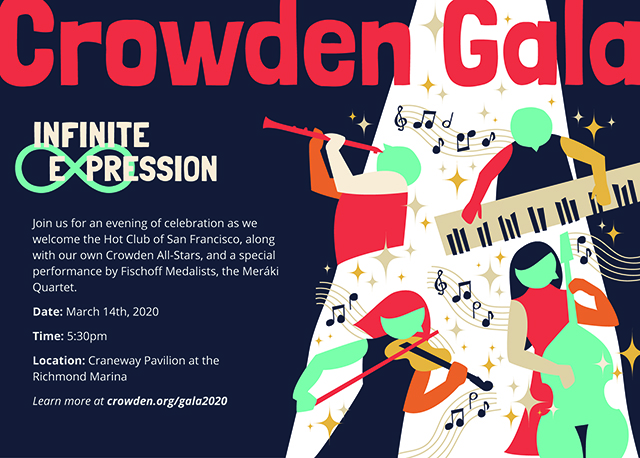 Join us at the beautiful Craneway Pavilion in Richmond, California for
Crowden Music Center's Biennial Gala
Infinite Expression
Saturday, March 14, 2020
5:30pm Reception & Silent Auction
7:30pm Dinner and Live Entertainment
8:15pm Live Auction and Fund-a-Need
Featuring:
Hot Club of San Francisco
Fischoff Medalists the Meráki Quartet
and performances by a group of Crowden All-Stars!
Sponsorship Inquiry
I'm interested in learning about sponsorship opportunities for Crowden's upcoming Gala, Infinite Expression.
View photos from our 2018 Gala, Music Blossoms.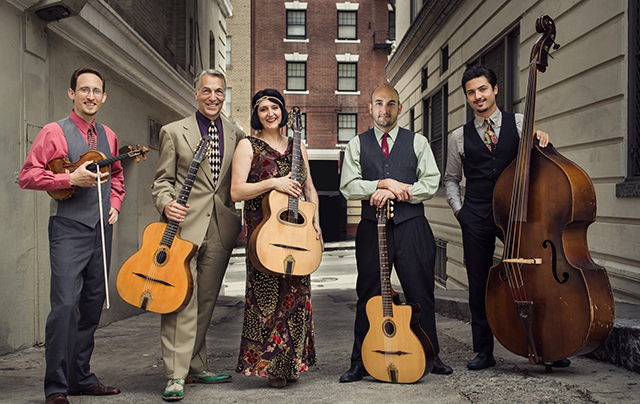 Hot Club of San Francisco
This ensemble of accomplished and versatile musicians celebrates the music of Django Reinhardt and Stephane Grappelli's pioneering Quintette du Hot Club de France with style and panache. The Hot Club of San Francisco borrows the instrumentation of violin, bass, and guitars from the original Hot Club while breathing new life into the music with innovative arrangements of classic tunes and original compositions from the group's superb lead guitarist, Paul Mehling. Featuring the amazing violin of twice GRAMMY® Award-winning Evan Price, the velvet vocals of Isabelle Fontaine and a swinging rhythm section, the group never fails to surprise and delight.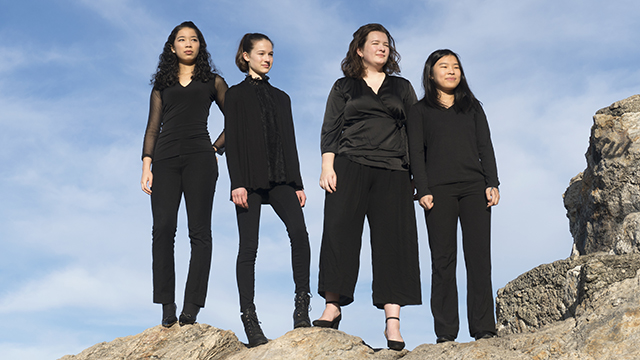 Meráki Quartet
The Meráki Quartet was formed by four 14-year-old students in the fall of 2016 through Crowden's Youth Chamber Music Program. Four months following its inception, the quartet participated in the Jane Galante Competition at the Yehudi Menuhin Chamber Music Seminar in San Francisco and earned second prize. They have since won Bronze in the 2019 Fischoff Junior Strings/Piano Competition, appeared on NPR's From the Top with Christopher O'Riley, performed at the Rex Salon and Herbst Theater with the Alexander String Quartet, opened for the St. Lawrence String Quartet, and played at Berkeley City Hall for Mayor Tom Bates. The group derives its name from the Greek "μεράκι," meaning "soulfully artistic."