World-Class Education with Music at its core
Welcome to Crowden!
When violinist Anne Crowden founded the Crowden School in 1983, she called it her "Grand Experiment." She was entering unknown territory, and she certainly never imagined that her dreams of a supportive educational environment for musical children would develop into a thriving, established Bay Area cultural institution. Anne succeeded because of the quality of her vision and musical standards, and the force of her personality. Like Anne herself, Crowden inspires unusual dedication and passion.
Today, Crowden is a home for all to explore, to learn, to rehearse, to perform, and to listen to music. Between our rich array of music education offerings for the general public, day school for grades 3 to 8, public school outreach initiative, concerts and events, and community partnerships, Crowden serves roughly 8,000 individuals each year. Anne's unique stamp—the commitment to musical excellence, the intimate family atmosphere, the particular passion for chamber and new music, the deep experience of interdisciplinary and creative learning—still combine into that tangible Crowden magic.
We believe that music is an inherent part of being human, and we believe in the power of music to change lives—indeed, to change everything.
We invite you to join our community.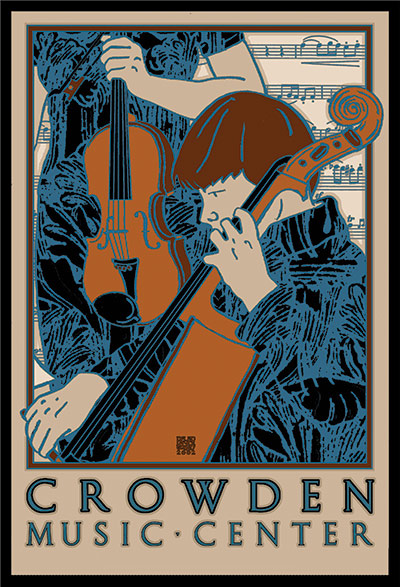 Where students come to receive a world-class education with music at its core.
Crowden serves 8,000 people each year
The first of its kind in the nation, Crowden's coeducational day school for grades three to eight provides a distinguished education with chamber music at its core.
» More about The Crowden School
Each year, Crowden serves more than 1,000 students aged three into adulthood with private lessons, group classes, chamber ensembles, and summer camps.
» More about Community Education
A launching pad for artistic expression grounded in disciplined work, expert individual guidance, and real-world experience. Students are mentored by a diverse faculty of professional composers who are gifted teachers, and a rich network of professional musicians and ensembles.
» More about John Adams Young Composers Program
Bay Area audiences treasure Crowden's engaging and affordable programming for the general public. Crowden produces over 60 public concerts each year. Children attend Crowden concerts free of charge.
» More about Concerts & Events
Crowden provides access to music education through our public school outreach program, and exposes thousands of Bay Area children and adults to classical music through our own Community Music Day and participation in major community street festivals.
» More about Community Outreach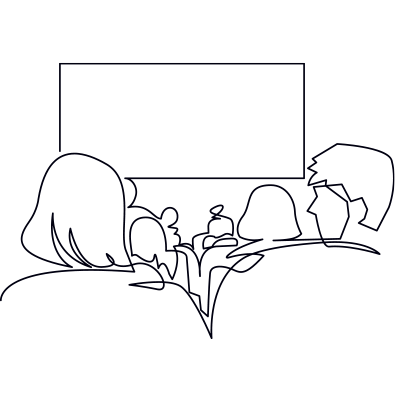 Facility Use
Crowden's performance and rehearsal facilities serve as essential resources for local music teachers and organizations, including East Bay Music Together, Pacific Edge Voices, and more.
» More about facility use
Crowden is planning for its future!
Artistic Support
Crowden has attracted the support of an impressive array of musicians of international and national renown, including the following:
Gianna Abondolo • John Adams • Samuel Carl Adams ('00) • Aizuri Quartet • Alexander String Quartet • Alexis Alrich • Juliana Athayde • Emanuel Ax • Marta Aznavoorian • Yuri Bashmet • Mason Bates • Baumer Quartet • Dan Becker • Noah Bendix-Balgley ('97) • Roy Bogas • Ragnar Bohlin • Helen Callus • Jay Campbell ('03) • Cavani Quartet • Cypress Quartet • Danny Clay • George Cleve • Anna Clyne • Nora Chastain • Roger Chase • Will Chow • Anna Clyne • Jeremy Cohen • Owen Dalby ('98) • Deirdre Cooper • Delphi Trio • Francesca dePasquale • Karla Donehew Perez ('99) • Jean-Michel Fonteneau • The Francisco Trio • Gabriela Lena Frank • Fry Street Quartet • Philip Glass • Bonnie Hampton • Colin Hampton • Juliana Han • Conor Hanick • Lou Harrison • Amy Hiraga • Wei He • Hot Club of San Francisco • Frank Huang • Emanuel Hurwitz • Sharon Isbin • Colin Jacobsen • Pierre Jalbert • Gary Karr • Ariana Kim • Etsuko Kimura • Kronos Quartet • Tessa Lark • Les Violons du Roy • Jay Liu • Yo-Yo Ma • Mads Tolling • Sharon Mann • David McCarroll ('99) • Bobby McFerrin • Yehudi Menuhin • Midori • Emil Miland • Michael Morgan • Johannes Moser • Felicia Moye • Clancy Newman • Mark and Maggie O'Conner • Nathan Olson ('00) • Michiko Otaki • Dimitri Papadimitrou • Quartet San Francisco • Alexander Rabin • Sir Simon Rattle • Kenneth Renshaw ('08) • Aaron Requiro ('95) • David Requiro ('99) • Lawrence Rosenthal • Donald Runnicles • Kaija Saariaho • Nadia Salerno-Sonnenberg • Nathan Schwartz • Robert Schwartz • Gil Shaham • Marcus Shelby • Benjamin Simon • Gabriella Smith • Kay Stern • St. Lawrence String Quartet • Axel Strauss • George Taylor • Takács Quartet • Telegraph Quartet • Michael Tilson Thomas • Olivier Thouin • Audrey Vardanega ('09) • Laszlo Varga • Gilles Vonsattel • Frederica von Stade • Weiss-Requiro Duo • Peter Wyrick • Amos Yang • Chee Yun • Zvi Zeitlin Trio
A BERKELEY INSTITUTION SINCE 1983
After watching her young students grow exhausted and overburdened by school, practice, chores, and countless other activities, Scottish violinist Anne Crowden (1928 to 2004) had a vision of a school that would provide a supportive environment for young musicians by incorporating music into the daily curriculum.
In 1983, she and Piero Mancini opened the nonprofit Crowden School, with just thirteen students, facing unknown challenges but driven by Anne's clear, uncompromising vision. It was the first school of its kind in the nation.
By 1998 Crowden had become a Berkeley institution, and moved into its current location, the historic Jefferson School building in North Berkeley. In 2003, the organization was officially renamed "Crowden Music Center" in recognition of the breadth of our activities in the community.
Now, we bring Anne's dedication and passion for music, and the distinctive Crowden educational experience, to an ever-expanding audience.
The Crowden School Timeline
September 1983
Anne Crowden and Piero Mancini open the Crowden School in the basement of Berkeley's University Christian Church
1984
Crowden's "Extension Program" established to serve music students of all ages and levels
1998
Crowden moves into the historic Jefferson School building, a City of Berkeley Landmark designed by architect Henry Higby Gutterson
1999
Crowden hosts our first annual Community Music Day
2003
Crowden re-incorporates as the nonprofit Crowden Music Center
2004
Anne Crowden passes away in Scotland, surrounded by family and friends
2006
Doris Fukawa is named Executive Director 
Crowden establishes its Music in Schools public school outreach program
2007
Crowden founds the John Adams Young Composers Program in honor of our friend's 60th birthday
October 10, 2007
Philip Glass visits Crowden for a Q&A with fellow composer John Adams
April 27, 2008
Berkeley Historical Society includes Crowden in its exhibit, "Berkeley Firsts."
2010
Crowden announces plans to renovate our auditorium
January 25, 2013
Yo-Yo Ma visits Crowden for a Cal Performances-sponsored master class with Crowden students
October 5, 2013
Crowden unveils its state-of-the-art performance hall, the Jacqueline and Peter Hoefer Auditorium, featuring Meyer Sound's groundbreaking Constellation electro-acoustic architecture.
March 25, 2014
The City of Berkeley declares The Crowden School Day
May 24, 2014
Crowden celebrates its 30th Anniversary at Hertz Hall, UC Berkeley
October 5, 2013
Crowden unveils its state-of-the-art performance hall, the Jacqueline and Peter Hoefer Auditorium, featuring Meyer Sound's groundbreaking Constellation electro-acoustic architecture.
March 25, 2014
The City of Berkeley declares The Crowden School Day
May 24, 2014
Crowden celebrates its 30th Anniversary at Hertz Hall, UC Berkeley
October 20, 2019
Crowden celebrates its 20th annual Community Music Day, our free musical carnival for all ages.
August 2020
The Crowden School expands to serve third grade students.
Spring and Fall 2020
Crowden joins the Bay Area in the nation's first shelter-in-place orders for the COVID-19 pandemic. Later that fall, The Crowden School partially reopens for music classes–one of the very first schools to meet state and local safety requirements to offer in-person instruction during the pandemic.
December 21, 2021
Crowden's Board of Trustees announces the establishment of the Ann and Gordon Getty Fund, made possible by their extraordinary gift of $10 million, to further Mr. and Mrs. Getty's commitment to opening the doors to a Crowden education for all children.
June 15, 2023
Crowden dedicates "Anne and Doris' Studio" in honor of our founder Anne Crowden and Director Emeritus Doris Fukawa.
July 1, 2023
Head of School Dan Meyers joins Crowden.
Anne Crowden studied at Edinburgh University in Scotland and trained at the Royal Academy of Music in London. She became an internationally renowned violinist, performing with the Edinburgh String Quartet and the Netherlands Chamber Orchestra, and as a soloist for the British Broadcasting Corporation and the Arts Council of Great Britain. She moved to the United States in 1965. In 1980 she was elected an Associate of the Royal Academy of Music for her distinguished service to music. In 1997, Chamber Music America selected Anne as the winner of the Heidi Castleman Award, one of the most distinguished and coveted prizes in the field of musical education.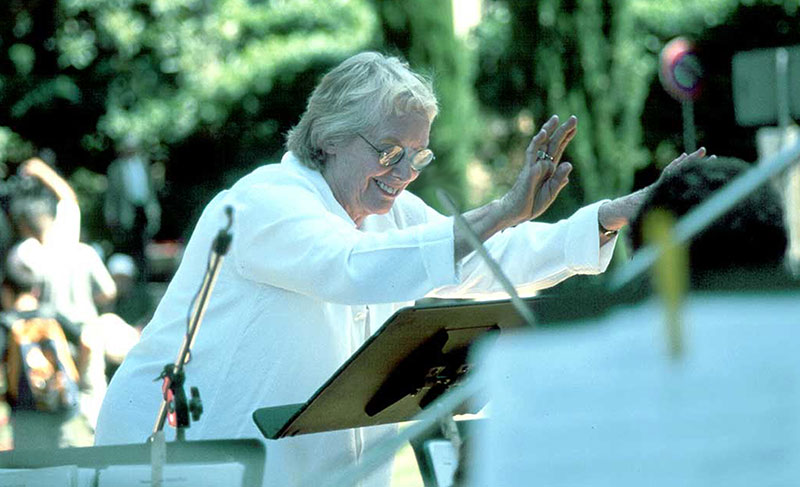 "How and Why I Began a School for Musical Children"
Ever since I became a "Born Again" Chamber Musician at the age of 18, I have religiously organized my life around my addiction. "Organized" is not the word others might use about an addicted chamber player who turns down lucrative work with benefits and pension in order to pursue hours of ensemble practice for less money than a job waitressing. Then, of course, later comes the necessity to pass one's addiction on to musical children and students which I did through Saturday workshops, summer schools and university music departments.
During my private teaching of 9 to 18 year olds, the plight of the Junior High School student (ages 11 to 14) seemed to be intolerable. They were always exhausted, mostly disheartened and having to practice after 8-hour school day, piles of homework looming ahead, not to mention family commitments and household chores. It all seemed so miserable for them. Musical children of this age definitely seemed to need a different background.
Following the example of some British schools, e.g., Menuhin, Purcell and St. Mary's to name three of many, I decided, with support from a few parents and colleagues to found a small school for this age group. We opened with eleven students. We were regarded academically with great suspicion by all and it took quite a few years to persuade parents-at-large that musical progress and academic progress go hand in hand.
The purpose of the school is to provide a musical training in balance with a first class academic education. This balance can work in two ways:
For those with exceptional musical ability it provides a solid program in musicianship, chamber music, time to practice and plenty of performing opportunities. Most importantly it gives these gifted children a sympathetic environment and peer support.
For those with a more general musical ability, the school can provide a wonderful broad education in a shared creative activity which, hopefully, will remain a pleasure all their lives.
Although Chamber Music is at the heart of the program, we pursue a comprehensive musical training: theory, composition, Dalcroze Eurhythmics, choral and part-singing, ear training. The children, who are mostly string players, study with any private teacher of their choice.
We give performances on the average of once a month. These performances can include chamber music, chamber orchestra, solos, chorus, opera and most popular composition night.
It is my belief that children of this age must be engaged in active, creative learning in all the Arts. For instance, if one puts on a play, appropriate music of that period must be found and performed, and the art class should build and paint the sets. With such a small school, of course, every student is engaged in the play, the music and the painting. This integration of the different departments and the fun in doing it will remain in memory much longer than the facts alone from the various classes.
For instance, the English class wrote haiku—the composition class set them to music and they performed with mime and dance. I am sure many of our students will never forget our efforts at Molière (in French, of course), The Importance of Being Ernest (which we made into a musical), and the French Revolution with the inspired dance scene against red lighting in the shadow of the guillotine. Above all other such endeavors was the miming of the Russian Revolution to the music of Shostakovich's String Quartet No. 8 played by four of our own students.