SPECIAL EVENTS
Crowden's 40th Anniversary
TRANSFORMING LIVES FOR 40 YEARS AND COUNTING
PAST SPECIAL EVENTS
Crowden Spring Benefit 2023
April 29, 2023
Ciel Creative Space, Berkeley
SOLD OUT!
We gathered at the award-winning Ciel Creative Space for a memorable evening, as we showcased just a few of the myriad ways a world-class music education at Crowden opens doors to a vibrant and purposeful life.
Proceeds benefitted music education programs and financial aid at Crowden.
Speakers and Entertainment
Acclaimed photographer Deborah O'Grady, Keynote Speaker
St. Lawrence String Quartet violinist Owen Dalby ('98), Master of Ceremonies
Hot Club of San Francisco performs live!
Sneak preview of a new composition by celebrated Crowden alumna Gabriella Smith, performed by Crowden students!
Sponsors and Host Committee
Lead Sponsor
Lois De Domenico
Benefactor Sponsors
James Marks and Edna Lee Warneke
Helen and John Meyer, Meyer Sound
Patron Sponsors
Sallie and Edward Arens
Berkeley Symphony
Table Sponsors
Angela Archie
Paul and Laura Bennett
Doris Chen and Joshua Uziel
Michael and Liza Dalby
Kathy Henschel and John Dewes
Zoe and Dominic Glynn
Eric Hallstein and Suzanne Lippert
Jay and Leslie Ifshin & Ifshin Violins
Sukey Lilienthal and David Roe
Deborah O'Grady and John Adams
Deborah Spaulding Graham and Andrew Graham
S. Shariq Yosufzai and Brian E. James
Adam Schwartz/ Computer Courage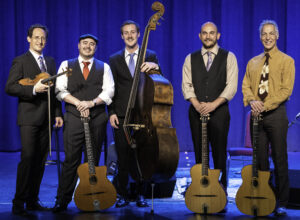 This ensemble of accomplished and versatile musicians celebrates the music of Django Reinhardt and Stephane Grappelli's pioneering Quintette du Hot Club de France.
The HCSF borrows the instrumentation of violin, bass, and guitars from the original Hot Club while breathing new life into the music with innovative arrangements of classic tunes and original compositions from the group's superb lead guitarist, Paul Mehling.
Featuring the silken violin of twice GRAMMY® Award-winning Evan Price (of Crowden's summer Chamber Music Workshop faculty!) and a swinging rhythm section, the group never fails to surprise and delight. To hear the ensemble live or on any of their 14 albums is to be carried back to the tight, smoky jazz clubs of 1930's Paris and to the refined lounge of the famous Hotel Ritz. Also known as jazz manouche, the music of The Hot Club of San Francisco has entranced audiences around the globe for over 25 years. Acoustic Guitar has hailed the group's playing as "intricate, scorching and often brilliant." With frequent national and international tours—from Iceland to Lincoln Center and the Monterey Jazz Festival—The Hot Club of San Francisco keeps this historic music fresh and alive.
PAST SPECIAL EVENTS
Hear Together: A Free Day-long Outdoor Piano Festival
Presented by Alternating Currents, Contemporaneous, Crowden Music Center, New Music Bay Area, Ross McKee Foundation

HEAR | TOGETHER was a celebration of the return of live music safely, in the open air, and the diverse range of pianists and composers in the Bay Area.
Our thanks to Alternating Currents, Contemporaneous, New Music Bay Area, and the Ross McKee Foundation for collaborating on this delightful Mother's Day of piano music!
PAST SPECIAL EVENTS
Winter Benefit Recital
Nora Chastain, violin
Jeffrey LaDeur, piano
February 6, 2020, 7:30 pm
Acclaimed Berlin-based violinist Nora Chastain, a student of Anne Crowden, performed a memorable evening of masterworks.
We were thrilled to welcome so many Crowden supporters at our last Winter Benefit concert, held on February 6, 2020.
Crowden members at the Patron ($500) level and higher receive complimentary tickets to the Winter Benefit, as well as to an exclusive reception prior to the concert. Become a Crowden Member here.
Nora Chastain, granddaughter of composer Roy Harris, was born in here Berkeley, where she began her violin lessons with Anne Crowden. Her studies continued at the Cincinnati Conservatory and at the Juilliard School with Dorothy DeLay, and in Europe with Alberto Lysy, Sandor Vegh, Ana Chumachenko, and Sir Yehudi Menuhin. At age sixteen she made her debut in Berlin playing Barber's Violin Concerto; since then she has been a regular guest with such orchestras as the San Francisco Symphony, the Orchestre de Paris, Cincinnati Philharmonia, the Jerusalem Symphony Orchestra, and the Bern Symphony Orchestra. She is a founding member of the Menuhin Festival Piano Quartet and Trio Kreisleriana.
Her chamber music activities have brought her to many of the world's capitals, including Frankfurt, Hamburg, Berlin, Bonn, Paris, Milano, Zürich, Geneva, Edinburgh, Washington D.C., New York, Boston, San Francisco, and Sydney. Ms. Chastain's recordings include sonatas of Mozart, Beethoven, Faure, Debussy, many works for piano trio and quartet, as well as Bartok's second violin concerto. She has been a prize winner at several competitions including the Menuhin Competition in Paris in 1985. In 1993, she was awarded the prestigious annual "Förderpreis der Europäischen Wirtschaft" in Zürich as soloist. An active teacher, Nora Chastain is Professor of Violin at the Universitaet der Kuenste Berlin and the Hochschule für Musik und Theater Zürich. Until 2004 she held a Professorship at the Musikhochschule Luebeck.
As one of Europe's most sought after teachers, Nora Chastain has amongst her students international prize winners, concertmasters of major European orchestras, members of well known chamber ensembles, and faculty members of universities of music. She gives regular master classes and serves on juries of international competitions. A main focus of her teaching is the integration of the American and European traditions of violin playing of the last 50 years.
Jeffrey LaDeur is known for his "delicate keyboard touch and rich expressivity" (San Francisco Chronicle) and playing described as "deeply moving, probing, felt entirely in the moment" (Eduard Laurel) Much sought after for his rare blend of insight, spontaneity, and approachable, communicative stage presence, Jeffrey has captured the hearts and minds of audiences from the Kennedy Center and Carnegie Hall to the Shanghai Conservatory and the Orlando Festival in the Netherlands.
Having inherited a rich tradition of pianism and interpretation from Annie Sherter, student of Vlado Perlemuter and Alfred Cortot, LaDeur has established himself as a compelling exponent of the French masters from Couperin to Ravel in addition to a diverse repertoire of canonical and alternative masterpieces. In March of 2018, LaDeur made his solo recital debut at Carnegie Hall on the centennial of Claude Debussy's death, performing the composer's complete Etudes with works by Couperin and Chopin. His acclaimed solo album, The Unbroken Line [MSR Classics) is devoted to music of Rameau and Debussy and has been hailed as "a masterpiece of understatement, simplicity, and 'old school' chord-playing where every note sings out with meaning" (Gramophone). In 2017, LaDeur founded the San Francisco International Piano Festival for which he serves as artistic director.
As a pianist, LaDeur integrates solo performance and collaboration, blending the intimacy of chamber music with the brio of concertante works. As founding member and pianist of the Delphi Trio, Jeffrey toured internationally with the ensemble for a decade and premiered William Bolcom's first Piano Trio, written for the ensemble. With mezzo soprano Kindra Scharich he recently recorded To My Distant Beloved, an album exploring the relationship between Beethoven's An die ferne Geliebte, Schumann's Frauenliebe und -Leben and his epic Fantasyin C for solo piano, to be released on MSR Classics spring of 2020. Jeffrey has collaborated with distinguished artists such as Robert Mann, Bonnie Hampton, Ian Swensen, Axel Strauss, Geoff Nuttall, Anne Akiko Meyers, David Requiro, and Scott Pingel.
Dedicated to the principle that solo pianists thrive together, rather than as competitors, Jeffrey founded New Piano Collective, an artistic alliance of pianists, dedicated to uniquely personal artistry, collaboration, and ground-breaking programming. In 2017, LaDeur expanded the Collective and founded the San Francisco International Piano Festival, now in its fourth season, for which he serves as artistic director. The festival has quickly become of the most exciting and engaging music festivals in the country.
An active educator, Jeffrey enjoys giving regular masterclasses as a visiting artist to universities across the United States. LaDeur coaches gifted pre-college piano and string ensembles at Young Chamber Musicians in Burlingame, California.
LaDeur holds degrees from the Eastman School of Music and San Francisco Conservatory of Music in piano performance and chamber music, respectively. Jeffrey counts among his teachers Mark Edwards, Douglas Humpherys, Yoshikazu Nagai, and Robert McDonald.