 Sundays @ Four
RESCHEDULED: MARCH 6, 2022
Chamber Music Society of San Francisco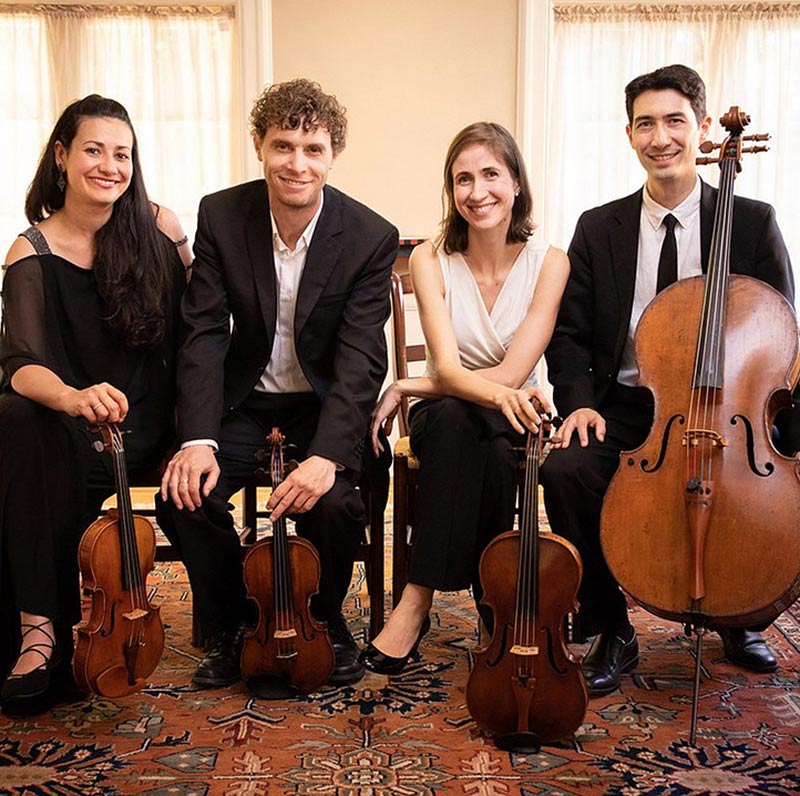 Health and Safety Precautions
All guests must wear masks and present proof of vaccination or negative COVID test within 72 hours upon entry. This event is subject to change to comply with all public health guidelines, and may be presented online as a live stream.
The health and safety of our artists, audiences, staff, and community are our top priority. Crowden adheres to all CDC guidelines and local policies, and continues to closely monitor information from public health officials. Please be aware that these safety protocol may change, and that Crowden will communicate additional details if necessary. Please contact us with any additional questions.
Who

Jory Fankuchen, violin/viola ('91)
Liana Bérubé, violin
Clio Tilton, viola
Samsun van Loon, cello
Stephen Prutsman, piano, featured guest artist

What

A Crowden School Alumni Concert

The Bay Area's own Chamber Music Society of San Francisco, comprised of talented performers and dedicated educators, is celebrated for bringing world-class chamber music to new audiences through storytelling and collaboration. We're thrilled to welcome these incredible musicians, a Crowden School alumnus and past faculty members, to our stage for Sundays @ Four!

When

RESCHEDULED!

March 6, 2022 @ 4pm 

Program

William Grant Still Danzas de Panama
Amy Beach Romance
Johannes Brahms Piano Quartet in G minor, Op. 25

Ticket Info

$25 general admission, $20 seniors/students 18+, and free for children under 18. Click here for tickets.

Seating is limited-capacity to ensure the health and safety of all artists and patrons. Please note this event is subject to change to comply with all public health guidelines, and may be presented online as a live stream.
Chamber Music Society of San Francisco brings world-class chamber masterworks, with a flair for storytelling, to diverse audiences. CMS of SF is passionate about concertizing in intimate settings, creating close connections between performers and listeners , and cultivating a relationship between music and audiences that extends far beyond the concert hall.
Founding members Jory Fankuchen, Natasha Makhijani, Clio Tilton, and Samsun van Loon came together through their mutual love of the late Beethoven String Quartets. Frequent guest artists—beloved Bay Area musicians—collaborate with CMS to surprise and delight audiences.
For more information, visit chambermusicsocietysf.org.
Individual Bios
Violinist and violist Jory Fankuchen (The Crowden School Class of 1991) has built a reputation as an engaging performer of many genres, as well as a passionate pedagogue. In response to this versatility, the San Francisco Examiner recently raved, Mr. Fankuchen's "flamboyant" performance "created the illusion that Eugene Ysaye had been born in Argentina, possibly in a bed next to Jean Sibelius." His ensembles include the San Francisco Chamber Orchestra, the Magik Magik Orchestra, Squid Ink, the Musical Art Quintet, the Chamber Music Society of San Francisco, and he appears as a regular guest with the New Century Chamber Orchestra. Jory has appeared as soloist with the Palo Alto Chamber Orchestra, the Berkeley Symphony, at the Tanglewood Music Center, and has the distinction of performing on Jascha Heifetz's Guarneri del Gesu violin at the Legion of Honor.
Chamber music has always been the driving force behind Jory's passion for music. He has performed in concert with artists such as Robert Mann, Joseph Silverstein, Joel Krosnick, Bonnie Hampton, Mark Sokol, and Ian Swensen. As first violinist of the Kailas String Quartet, he performed throughout North America, winning first prize in the Chamber Music International Competition, and silver at the National Fischoff Competition. Jory serves on the faculty of the Crowden Music Center, the Palo Alto Chamber Orchestra, and most recently as a visiting lecturer at Cornell University. He holds a B.M. from the San Francisco Conservatory, and an M.M. from the New England Conservatory, where he studied with Ian Swensen and Lucy Chapman, respectively.
Evan Price is steadily gaining recognition as one of the world's most confident voices in extra-classical string playing. A native of Detroit, MI, his musical background includes some earnest dues-paying in a variety of genres. From square dance bands to string quartets, from jamming with blues bands to busking in Greektown, Evan's youthful pursuits all informed his violin-playing and left him with a deep love of chamber music in all forms. As a young competitive fiddler he won his share of awards, having been named the U.S. Scottish Fiddling Champion, the Kentucky State Fiddle Champion, Canadian Junior Fiddle Champion, and Canadian Novelty Fiddling Champion. He also performed with some of the masters of fiddle lore—Stephane Grappelli, Johnny Frigo, Claude "Fiddler" Williams, Johnny Gimble, Buddy Spicher, and Vassar Clements—as well as a diverse array of pop icons from Stevie Wonder and Led Zeppelin's Jimmy Page and Robert Plant to comedian, Steven Wright.
Evan's college career included stints at both The Cleveland Institute of Music and at Berklee College of Music, and has himself served as a member of the music faculty at Wellesley College, The California Jazz Conservatory, and The University of California, Berkeley.
Evan is a ten-year veteran of the world-renowned, paradigm-shifting jazz ensemble, the Turtle Island Quartet. During his tenure in Turtle Island, Evan gave over five hundred performances in concert venues from Latvia to Australia and had the opportunity to collaborate with many musical luminaries, such as Cuban clarinetist Paquito D'Rivera, The Ying Quartet, pianists Dr. Billy Taylor and Kenny Barron, and classical guitarists, Sergio and Odair Assad. He recorded five CD's with Turtle Island, two of which—"Four + 4" and "A Love Supreme: The Legacy of John Coltrane"—received GRAMMY® awards in 2006 and 2008 in the Classical Crossover category.
Since 1998, Evan has been proud to call himself a member of The Hot Club of San Francisco, perhaps the most venerable gypsy jazz band in the US. During his tenure, the group has thrilled audiences from Iceland to Mexico and across the United States, and has released seven CD's which feature Evan on violin.
An accomplished composer, Evan has contributed compositions and arrangements to the repertoires of HCSF, Turtle Island Quartet, Quartet San Francisco, San Francisco Girls' Chorus, the New Century Chamber Orchestra, Chanticleer, The Delphi Trio, and the International Space Orchestra, for which he also serves as musical director. In 2016, he premiered his Concerto for Jazz Violin and Orchestra with the San Francisco Chamber Orchestra and released his debut solo album, "Dialogues," in 2017 on Azica Records.He lives in Mill Valley, CA, with his wife and daughter. 
Violist Clio Tilton delights in the diversity and excitement in her career. Seeking to share her gifts both through teaching and performing, she can be heard around the Bay Area in a wide range of groups: early music ensembles, symphony orchestras, chamber groups, and rock bands.
Clio performs regularly as a substitute with the San Francisco Symphony, the San Francisco Chamber Orchestra, the San Francisco Contemporary Players, Oakland Symphony, Berkeley Symphony, American Bach Soloists, and as well as other regional orchestras. She performs on both modern and baroque viola at Carmel Bach Festival. Sought after as a chamber musician, Clio has performed with the Friction Quartet, Classical Revolution, and is a founding member of the Chamber Music Society of San Francisco. She has recorded for Time Warner with the Camerata de Lausanne, and has also been heard in recordings with Shajarian, Geographer, and Meklit. Clio completed Oberlin's double degree program in viola performance and comparative literature.
Clio completed Oberlin's double degree program in viola performance and comparative literature. After earning her master's at Juilliard, she was awarded a Fulbright Fellowship to study orchestral and baroque performance in Switzerland. During her two years studying in Lausanne and Geneva, Clio performed with Swiss ensembles such as l'Orchestre de la Suisse Romande, Sinfonietta de Lausanne, and the Camerata de Lausanne.
Chamber music has always been, and continues to be, a central part of Clio's musical pursuits. She spent three formative summers at the prestigious Kneisel Hall Chamber Music Festival in Blue Hill, Maine during college, and has coached chamber music with the Juilliard String Quartet, Misha Amory of the Brentano Quartet, and Sylvia Rosenberg. During her time at Juilliard she was a member of the award-winning Calla Quartet. In Europe she performed at the THY festival, and most recently has become passionate about finding ways to share chamber music with audiences on a deeply personal level through her work with the Chamber Music Society of San Francisco. Clio is a former Crowden faculty member!
Cellist Samsun van Loon has been critically praised as a "promising talent" with "the rhetorical polish of a skilled storyteller." He studied as a quartet cellist at seminars with the Alexander, Miro and Takacs quartets, and his passion for chamber music has led him to recently participate in the Academie Musical at Morges, Switzerland, Thy Chamber Music Festival in Denmark, as well as New York's Arcos Orchestra's Germany tour and recording of the music of Swedish composer Anders Eliasson for the Neos label.
While studying at the San Francisco Conservatory of Music with Jean-Michel Fonteneau, he received the conservatory's chamber music honors award, as well as the M. Alan Neys Award for first prize at the Pacific Musical Society's annual competition. Recent concert appearances include the series at Old Saint Mary's, Old First Presbyterian Church, Legion of Honor, as well as a duet with Cambodian dancer Chary Burt at San Francisco's annual Ethnic Dance Festival.
Samsun currently resides in San Francisco and in addition to maintaining a private teaching studio he is a regular faculty member at Lake Tahoe's Zephyr Music Camp, Cazadero Music Camp, and San Francisco's Community Music Center. In addition to the Chamber Music Society of SF he is a member of the conductorless chamber orchestra One Found Sound.
Other Sundays@Four Concerts