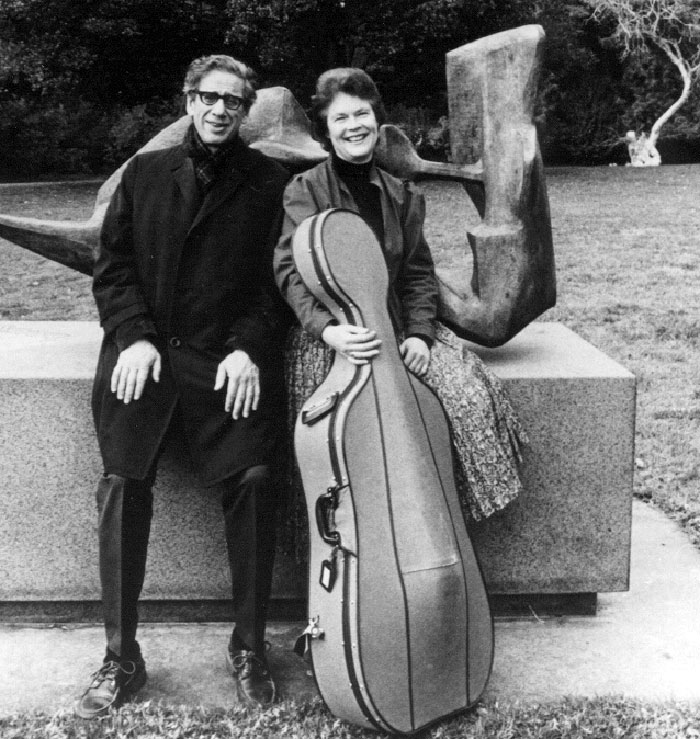 Bonnie Hampton with pianist and husband Nathan Schwartz
Established by a grant from the Bonnie Hampton Trust, the Hampton Scholarship was created to encourage the development of exceptional young cellists who are enrolled at Crowden Music Center, and musicians and ensembles in Crowden's Chamber Music Program.
Scholarship funds will be awarded on a rolling basis, and will be based on the assessment and recommendation of a panel of Crowden senior faculty and staff. The award will support one of the following:
Tuition and or Instrument expenses for a cello student, through age 18. Potential applicants shall have been identified by their instructors at Crowden as having demonstrated excellence in their performance, as well as discipline and commitment in the study of music.
Tuition, instrument expenses, or other costs directly associated with music study or performance for a chamber music student or ensemble. Potential applicants shall have been identified by their instructors at Crowden as having demonstrated excellence in their performance, as well as discipline and commitment in the study and performance of chamber music.
About the Hampton Scholarship
The Hampton Scholarship was established in 2020, building on the decades-long relationship between members of the Hampton family and Crowden Music Center. For decades, the Hampton name has been recognized for excellence in cello performance, instruction, and composition.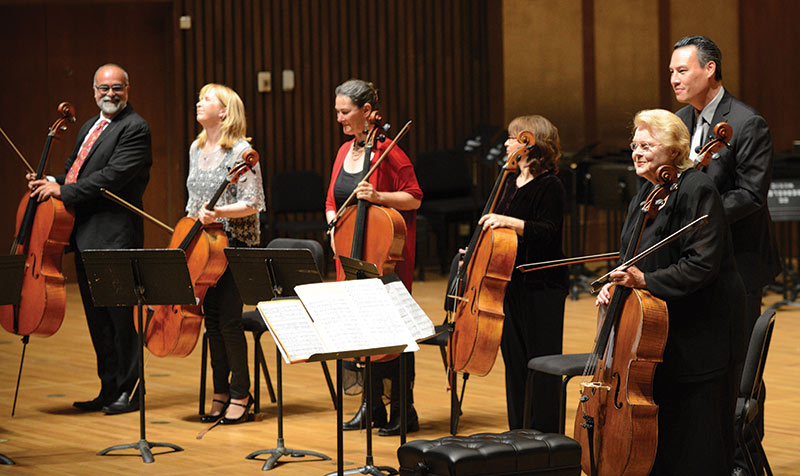 Bonnie Hampton, right, takes a bow at Crowden's 30th Anniversary Concert. With Emil Miland, Deirdre Cooper (Anne's daughter and Colin's student), and Crowden faculty cellists Monica Scott, Cathy Allen, Eugene Sor.
Bonnie Hampton, the globally acclaimed cellist and pedagogue, is a member of Crowden's Music Advisory Board and has been a mentor and frequent coach since the school's founding. In 1964, Bonnie was a founding member of the acclaimed Francesco Trio, which won the Naumburg Chamber Award, and attained a Residency at Stanford University. In 1972, Bonnie joined the faculty of the San Francisco Conservatory of Music, where she taught for 30 years. During her tenure, Bonnie started the Conservatory's Masters Degree in Chamber Music, the first of its kind in the nation. She spent nine years in New York in order to accept a teaching contract with Julliard. Bonnie is now living, teaching, and mentoring a new generation of students in her native Bay Area.
Colin Hampton, cellist, composer, and teacher, was a founding member of Crowden's Board of Trustees, and played a significant role in helping Anne Crowden develop her vision into our unique organization. He was a member of one of the 20th centuries' most distinguished quartets, The Griller Quartet, founded in 1928. Previously, although there had been great European ensembles, English string quartets were traditionally ad hoc affairs. It was the Griller Quartet's destiny to change this. By 1931 the Griller Quartet had established a European reputation, but their big breakthrough came in January 1939 with a successful debut in the New York City Hall and a subsequent contract with NBC. No British quartet had ever made such an impression in the New World. During the war, the quartet gave over 200 concerts a year as a special unit in the RAF. In 1949, they became the resident quartet at the University of California at Berkeley, a pioneering appointment which paved the way for many other chamber groups to have valuable campus associations. Also following WWII, Colin went on to co-found the California Cello Club, the nation's oldest such organization. Colin was Bonnie's former husband, and remained her musical colleague until the time of his death in 1996. He was a valued instructor to generations of cello and chamber music students, including Crowden's current Executive and Artistic Director, Doris Fukawa, who also studied chamber music with his son Ian during her early years of training.
Ian Hampton is an internationally acclaimed cellist who received his early training in Britain and went on to playing with the London Symphony Orchestra, Vancouver Symphony Orchestra, CBC Vancouver Chamber Orchestra and others. In the early 1950's, his involvement with a newly-formed quartet in Scotland opened the door to a life-changing friendship. In his words, "Edinburgh was in the vanguard of university thinking when it created a residency for a string quartet in its music department, the Reid School of Music." Both Ian Hampton and Anne Crowden were members, and through this connection they began a life-long personal friendship that helped to influence modern chamber music internationally for the years to follow. When Anne cast off to America and began her "Grand Experiment" by founding The Crowden School, Ian remained a dedicated supporter of her dream, helping to build and maintain bridges to the European music community, and ensuring that his parent, Colin, would grow to know and support Crowden during its formative years and beyond.
Together, this family of exceptional musicians has contributed immensely to both Crowden and the global cello community, and their passion for chamber music has fostered thousands of students over decades of active teaching, composing, and performance. The combined influences of each member of the Hampton family have helped to shaped countless young musicians, and have played an integral part of the longevity and quality of training provided at Crowden.
The Hampton Scholarship is a continuation of the family commitment to the highest ideal for young cellists and chamber music students.