 Audrey Vardanega & Peter Myers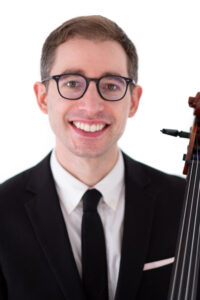 Who

Audrey Vardanega, piano (Crowden School '09)
Peter Myers, cello

What

A Crowden School Alumni Concert!
Crowden School alumna pianist Audrey Vardanega plays "with the kind of freedom, authority, and strength... that one expects from the world's finest pianists" (The Piedmont Post). Don't miss this much anticipated return to her home stage here at Crowden with internationally acclaimed cellist Peter Myers!

Program

Janáček

selections from

On an Overgrown Path for solo piano
Chopin Polonaise-Fantasie, Op. 61
Britten Irish Folk Songs for Cello and Piano
Sheng

selections from

Seven Tunes Heard in China for solo cello
Mamiya

selections from

Five Finnish Folk Songs for Cello and Piano
Bartók Romanian Folk Dances for Cello and Piano
de Falla Suite Populaire Espagnole for cello and piano 

Free Meet-the-Artists reception following the concert.
Praised as a "[musically] eloquent" (San Francisco Classical Voice) player "with the kind of freedom, authority, and strength…that one expects from the world's finest pianists" and a "bewitching musical presence" (The Piedmont Post), American pianist and arts entrepreneur Audrey Vardanega (b.1995) has performed as a solo and collaborative pianist across Europe, China, and the United States.
2022 highlights include Musaics of the Bay's inaugural residency program, bringing together 10 emerging performers, visual artists and composers together for workshops, peer review sessions, open rehearsals, improvisation, chamber music, and the creation of new work in Berkeley, CA; and the inaugural year of The Autumn Salon in NYC, a members-only salon series. Audrey is passionate about providing emerging artists with opportunities to determine their own artistic careers by creating new communities and rethinking patronage.
Audrey was born and raised in Oakland, California and began her piano studies at the age of six with Araks Aghazarian. She began formal piano training with Robert Schwartz at the San Francisco Conservatory of Music from 2002 to 2013 as well as formal composition training with Arkadi Serper here at The Crowden School from 2004 to 2013. Her past instructors include Seymour Lipkin, Jeremy Siepmann, Christopher Elton and Victor Rosenbaum. Audrey earned her B.A. in Political Science from Columbia University in May 2017 and received her Masters in Music in May 2019 from Mannes The New School under the tutelage of Richard Goode.
Audrey made her debut as a soloist with the San Francisco Chamber Orchestra at the age of 11 and her debut with the Midsummer Mozart Festival under the baton of the late Maestro George Cleve in 2010, 2012, and 2013, becoming the youngest soloist in the history of the festival. She made her solo recital debut at the age of 12 on the Bouchaine Young Artists Series with Festival Napa Valley in California. Audrey has also been interviewed and featured on various media outlets including KQED San Francisco, Berkeley's "Piano" segment on KPFA 94.1, KALW San Francisco Local Public Radio, San Francisco's Classical KDFC,  the Hangzhou China Central TV Station, the San Francisco Classical Voice, and New York's WWFM, among others.
Audrey has been featured as a solo and chamber musician by the Hangzhou Grand Theater, The Lakes Area Music Festival in Brainerd, MN, Festival Napa Valley, the Zhejiang Conservatory of Music, the Teatro del Libertador San Martín in Córdoba, Argentina, The Santa Cruz Symphony, San Francisco's Old First Concerts Series, San Francisco's Herbst Theater, Musaics of the Bay, Festival del Sole Napa Valley, Rockefeller University's Tri-Institutional Noon Concerts Series, the Valley of the Moon Music Festival, Santa Cruz's "Distinguished Artists Concert and Lecture Series," and more.
Festival appearances include the Ravinia Festival in Highland Park, Illinois, IMS Prussia Cove, and the Carnegie Hall Workshops. Audrey won a Bay Area Audience Choice Award in August 2021 for her performance of Beethoven's A Major Cello Sonata with cellist Tanya Tomkins and the Valley of the Moon Music Festival. Audrey lives in Berkeley, CA and New York City; she enjoys cooking and spending time with her shih-tzu and morkie, Romeo and Bear.
She is the Founder and Artistic Director of Musaics of the Bay, a nonprofit chamber music series dedicated to connecting musicians, composers and visual artists for collaborations, residency programs, mentorship and creating new work in the Bay Area and beyond. From March 2020 to April 2021, Musaics of the Bay presented "The Stay-at-Home Symposium," commissioning over 75 new works of music inspired by community-submitted artwork. The Symposium included over 100 artists from all over the world, including performers, composers, poets, filmmakers, painters, photographers and more for virtual collaboration.
Along with pianist/composer Christos Vayenas, she is the co-founder and COO of Arium TV. She is also the Director of Operations for The Autumn Salon, an invite-only NYC and Boston-based Salon series devoted to bringing together world-class musicians with audiences in intimate settings.
Praised for the warmth of his sound and range of color, American cellist Peter Myers (b. 1985) is internationally known as a chamber musician. A founding member of the Saguaro Piano Trio, which won first prize in the 2009 International Chamber Music Competition Hamburg, as well as SAKURA, a unique and innovative quintet of cellos, Mr. Myers has appeared at the Marlboro, La Jolla, and Mozaic festivals, on tour with Musicians from Marlboro, and abroad in Germany, Italy, Japan, China, Australia, New Zealand, Mongolia, Laos, and Pakistan. Since 2017, he has held the position of Assistant Principal Cello with the San Francisco Opera; he has also performed as guest principal cellist of the St. Paul Chamber Orchestra. His mentors have included Ronald Leonard at the Colburn Conservatory and Ralph Kirshbaum at the University of Southern California. He plays on an 1876 cello by Claude-Augustin Miremont.
Other Sundays@Four Concerts