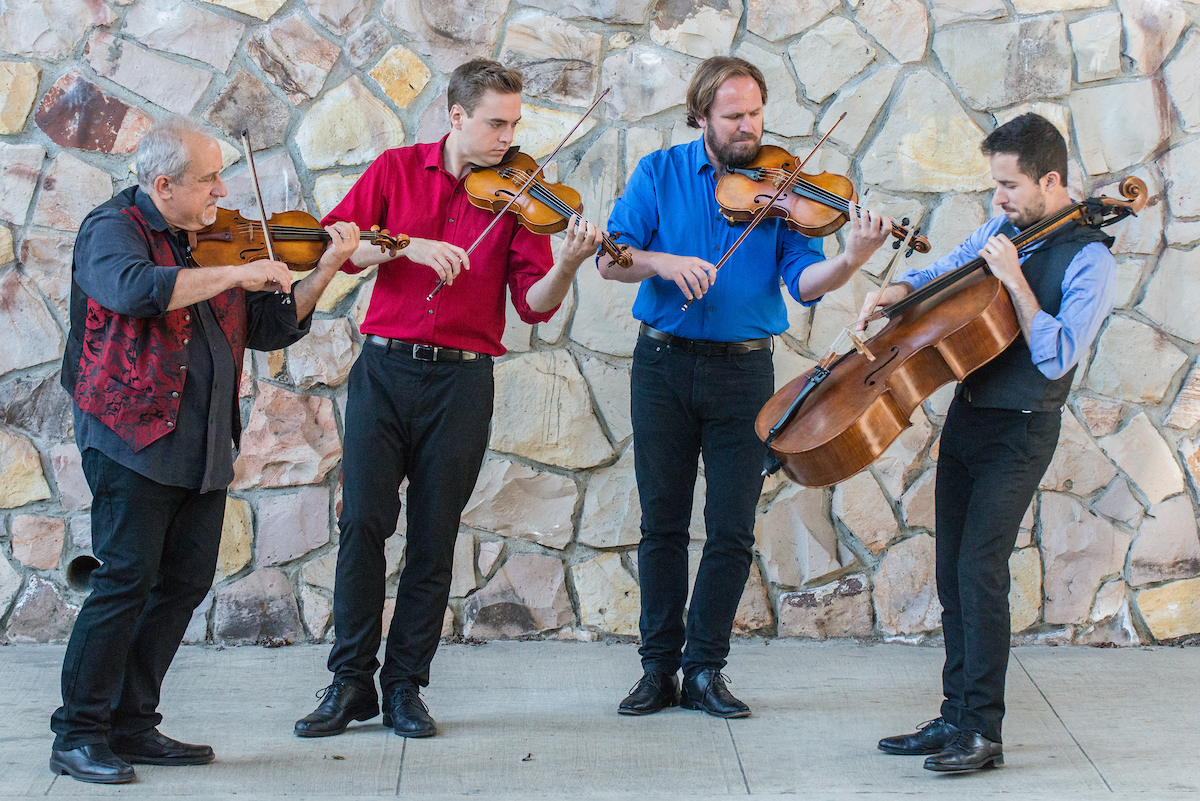 Who

Jeremy Cohen, violin
Joseph Christianson, violin
Chad Kaltinger, viola
Andrés Vera, cello

What

Non-traditional in their delivery, Quartet San Francisco redefines the sound of chamber music. "When the music says swing, we swing. When the music says groove, we groove."

Grammy nominees for four CD releases (2013, 2009, 2007, and 2006) and International Tango competition winners (New York, 2004), Quartet San Francisco expresses itself in its agility and standout virtuosic playing. Quartet San Francisco was founded in 2001 by celebrated Bay Area violinist and composer-arranger Jeremy Cohen, a student of our own Anne Crowden! Along with violinist Joseph Christianson, violist Chad Kaltinger, and cellist Andrés Vera, these crossover specialists excel in multiple styles — from jazz to tango, pop to funk, blues to bluegrass, gypsy swing to big band and beyond.

Don't miss an incredible evening featuring works by underappreciated 20th century American legends Eddie South and Raymond Scott!

Program

Works by Raymond Scott and Eddie South

Free Meet-the-Artists reception following the concert.
Since its concert debut in 2001, Quartet San Francisco has offered its groundbreaking literature to local, national and international audiences in performing arts centers, tango and concert halls, jazz festivals, museums, and classrooms. In 2002 the quartet began its on-stage collaborations with tango dancers Sandor and Parissa. Quartet San Francisco recently toured Italy, China, South Korea, Japan, and Turkey, performing in Cremona, San Giovanni in Galdo, Seoul, Tokyo, Hyogo, Sanda, and Istanbul. Recent U.S. appearances include the Monterey Jazz Festival, Napa Valley Opera House, Berkeley Art Museum, Hopkins Center for the Arts, Minn., Old Town Temecula Community Theater, New York's LePoisson Rouge, Yoshi's Jazz Club in San Francisco as the inaugural guests of "The Artist Sessions," the Brubeck Room in the Wilton (Conn.) Library, the Mendocino Music Festival, in concert with the Marin Symphony and Bob Weir of The Grateful Dead in San Rafael, Calif., the Bay Area's Peninsula Symphony, the Tulsa Symphony, and the San Jose Chamber Orchestra. They have appeared at the Corning Museum of Glass in Corning, N.Y., Troy Music Hall in Troy, N.Y., Herbst Theatre in San Francisco, Café Tortoni in Buenos Aires, Portland (Ore.) Friends of Chamber Music, the La Jolla Music Society, Martha's Vineyard Chamber Music Society Summer Music Festival, University of Vermont Lane Series, San Luis Obispo Mozart Festival, St. Peter's Church in New York, N.Y., Dumbarton Concert Series in Washington, D.C., Manhattan School of Music, Berklee College of Music, The Jazzschool in Berkeley, Ford Amphitheatre in Los Angeles, San Francisco Performances, Redlands Bowl Summer Music Festival, and the University of the Pacific's Brubeck Festival at Mills College in Oakland, Calif. QSF's September 2018 CD release, A QSF Journey (Reference Recordings), featured new chamber music from Jeremy Cohen, Helmut Lipsky, and Giovanni Sollima, and showcased world music and the lyrical leanings of the group. Their 2013 disc, Pacific Premieres: New Works by California Composers (Violinjazz Recordings), received two composer Grammy nominations (Gordon Goodwin and Vince Mendoza). In 2010 the quartet and its engineers were awarded two Grammy nominations for their release QSF Plays Brubeck (Violinjazz Recordings), and the quartet appeared on NPR's Weekend Edition Sunday in a studio interview with Leane Hansen. Their Latin and tango CD, Látigo (Violinjazz Recordings, 2006), was honored with Grammy nominations for Best Classical Crossover and Best Engineered, Classical. The quartet members were again Classical Crossover Grammy nominees for Whirled Chamber Music (Violinjazz Recordings, 2007), "…what could easily be the most cheerful and brilliantly-executed release of 2007" (Judith Schlesinger, All About Jazz).
Other Sundays@Four Concerts